September 10 Archangel Amble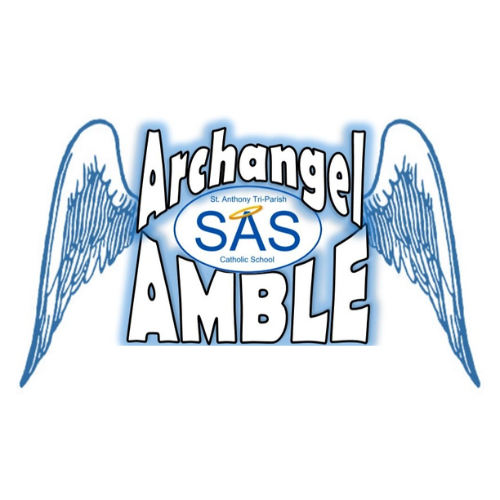 Thank you to all of our sponsors and Congratulations to our winners, Father Ray, Mrs. King, SAS 8th grader Austin V. and SAS 7th grader Ellise A.
St. Anthony School Foundation
2022 Archangel Breakfast
Thursday, September 29th – 7:00 am
St. Anthony School Commons
What is The Archangel Breakfast? The Foundation's annual breakfast was started in 2012 to honor and recognize individuals in our community who have made an impact on Catholic education. The fall breakfast is an opportunity for St. Anthony School and Foundation supporters to celebrate individuals who have made a lasting, positive impact on our school. The support of our benefactors at the breakfast provides funding for the SAS Foundation to assist the school today and in the future.
Who is being honored? This year we are honoring Casper's own Joe Scott, an incredible supporter of Catholic education and our community. Joe's commitment to St. Anthony School spans many years, first as a student and more recently as a dedicated supporter. Past honorees include: Monsignor James O'Neil, Fr. August Koeune, Margo Bean, Brian and Marcy Martin, Dr. Martin H. Ellbogen, Don and Rita (Murphy) Galles, Julie Perry, Dr. Gail Zimmerman and Susie McMurry.

What is new this year? This year marks the creation of our Servant's Heart Award in recognition of those who have dedicated years of service to St. Anthony School, This year's inaugural recipient will be Mary Kozola, who will be honored for her career of over 30 years as a teacher and principal at St. Anthony School.
"…serve one another with love"
– Galatians 5:13
How can you help? This event would not be possible without the help of volunteers. As you know, giving of your time and talents counts towards your stewardship requirement for the year. If you are interested in helping with this year's breakfast, click HERE to signup!
Breakfast attendance is free, however seating is limited. Please RSVP on or before Friday, September 16th via phone at (307)337-1362 or email at foundation@sascasper.com