At SAS, our students have many opportunities to live their faith as they study, pray, and assist others around them. Students are expected to be respectful, responsible, caring, and ready to learn and lead according to the Gospel.
Our teachers create a positive, caring, and safe environment for all of our students with the help of small class sizes and high expectations. Students are well prepared for high school and are positioned to become citizen leaders in our community. We encourage family involvement at all levels.
Our middle school classes incorporate many programs to enhance the education and leadership skills of our students. 
Curriculum Enhancements
Teton Science School
Experiential learning
STEM & Project Based Learning
Appropriate technology integration
Exploratories/Electives
Spanish
Latin introduction
Art, Music, PE, and Religion programs
Weekly Mass
Para-liturgical activities
Extra – Curriculars
Community Service Projects
In-School Sports: Volleyball, Basketball, Hockey, Cross Country Running, Golf
NCSD Sports: Football, Skiing, Soccer, Track, Swimming
Children's Theater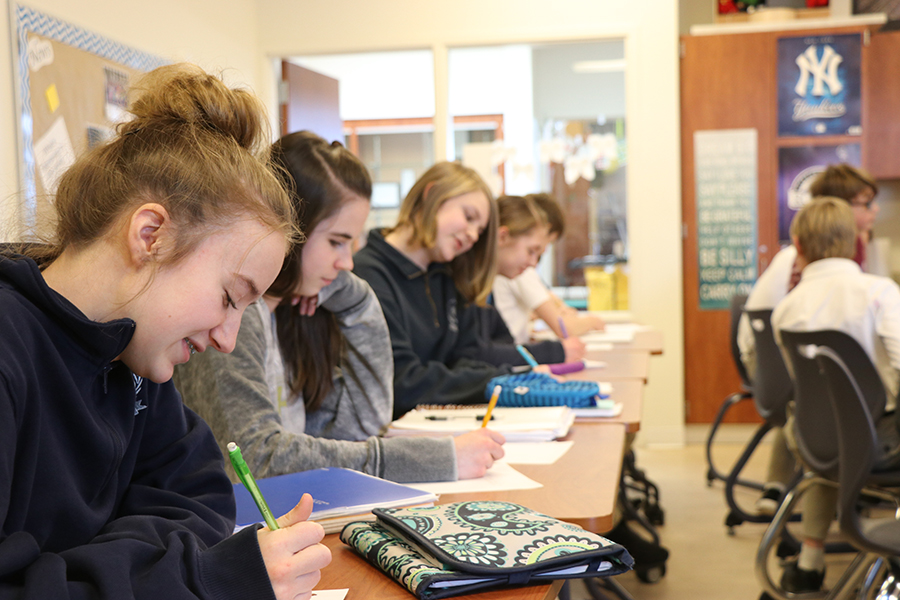 Middle School
6th - 8th Grade
School Hours: 8:00AM – 3:30 PM

Fundraising Requirement: $500 min. year; plus each family must contribute at least one item for the auction at our annual Partners In Education (P.I.E.) Fundraiser.
Volunteer Requirement: 20 hours min. (Families are assessed $10 for each hour not completed by the end of the year)

New Student Registration: $50 per student

Device Fee: $50 per student

Materials Fee: $180 per student

Parishioner Discount: $495 per year (must complete Parish Affiliation Form)
Additional Student Discount: 2nd Student $500/year; 3rd Student: $1000/year; 4th+ Student: $1500/year
Family Referral Discount: Refer a family that registers and enrolls and receive $250.00 off your tuition bill. Discount is for one year. Must complete referral form.
Scholarship Opportunities: ACE Scholarship, Foundation Scholarships, Additional Scholarships are available through FACTS (Qualifications Apply)